The chemical reaction between vegetable or animal fats with a strong alkaline is called saponification. If you are making soap for the first time, the "melt and pour" process is the easiest place to begin.
All you need to do is melt down a premade soap base, then stir in fragrances, color, minerals, or herbs. Pour it into molds and let it cool until it's hardened fully.
The traditional "cold process" is for more advanced soapmakers and it requires the mixing of oils with a base solution. It is important to follow the safety measures during this procedure.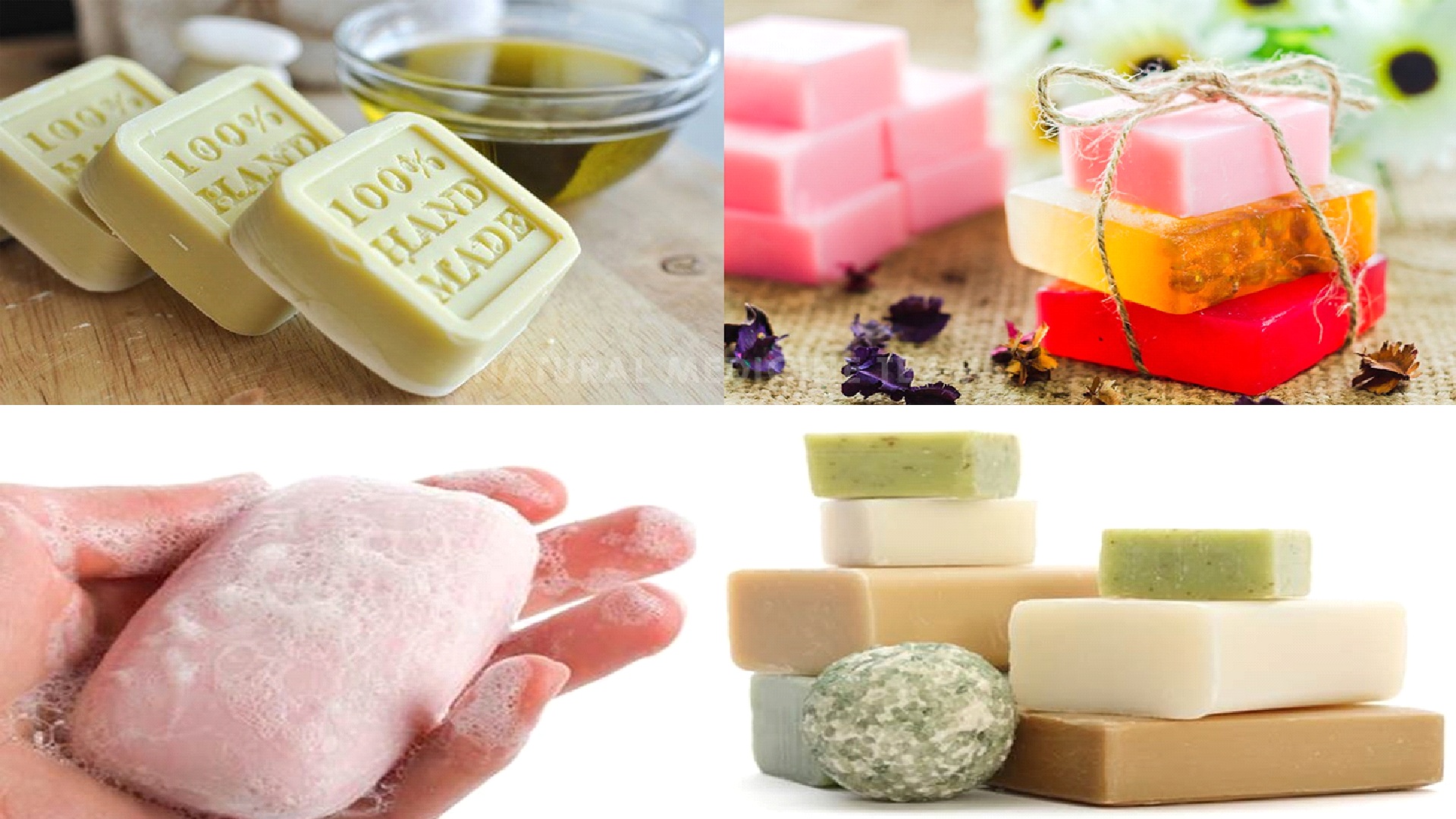 IDEAS FOR HOMEMADE SOAPS
Milk & Honey Soap
Milk and honey soap is a great combination of ingredients. The beneficial properties of raw organic honey get along quite well with the skin soothing benefits of goat milk.
Tea Tree & Charcoal Facial Soap
This sexy black bar of soap contains the healing attributes of tea tree oil along with the detoxifying effects of activated charcoal. It is perfect for oily skin types and the selection of skin-friendly oils ensures it's also deeply hydrating.
Pure Coconut Oil Soap
Coconut oil, water, lye, and your favorite essential oils are the only ingredients of this soap which is naturally moisturizing and cleansing. You will create a bar that is extra fatty and moisturizing by using the process of "superfatting".
Aloe Vera Soap
Aloe vera has the ability to soothe sunburns, heal wounds, treat acne, moisturize, and defy the outward signs of aging. This makes this soap the perfect candidate for soapmaking. Combine coconut oil with organic aloe vera, shea butter, olive oil, lye, and lard and produce your own super nourishing soap.
Lavender Oatmeal Soap
Lavender oatmeal soap combines the awesome powers of lavender with the reparative qualities of oatmeal. Purchase goat's milk, soap base, quick cook oats, dried lavender flowers, and lavender essential oil and make this incredible soap.
Yogurt & Banana Soap
This body bar is rife with potassium, vitamins A, E, and B6, essential fats, and lactic acid. You'll need banana powder, flax seed oil, powdered yogurt, coconut oil, babassu oil, castor oil, cocoa butter, shea butter, and olive oil.
Pink Himalayan Salt Grapefruit Soap
Made from three ingredients: goat milk soap base, pink Himalayan salt, and grapefruit essential oil.
Coffee Soap
This incredible soap will surely perk you up in the morning with its intoxicating aroma. It contains fresh grounds for exfoliation, a goat's milk base and almond oil for conditioning, and your choice of fragrance.
Enjoy your brand new homemade soap..