Garlic is not just a spice that is added to dishes to enrich their taste and aroma. Its healing properties have long been known and used in medicine. Among other things, garlic is used in treatments against hair loss (alopecia).
The selenium and sulfur contained in garlic are considered to be the main ingredients that lead to the strengthening of the follicles and do not allow the hair to fall out.
Its antimicrobial and antifungal properties can also contribute greatly.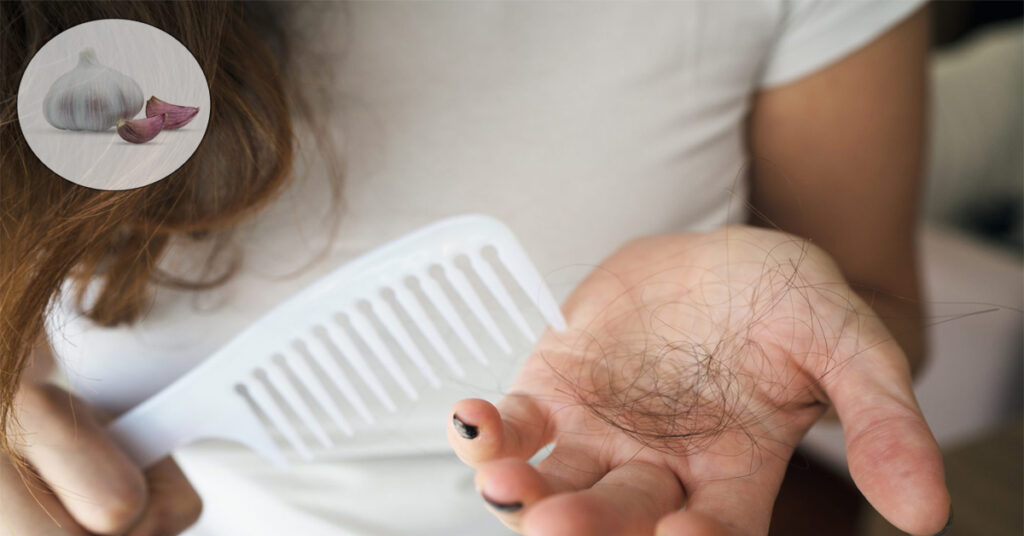 How to prepare a remedy for hair loss with garlic?
There are many ways and variants of preparing garlic remedies, and we will tell you the best ones. Garlic can be used alone as a remedy. Although in combination with other ingredients, you can get homemade remedies with exceptional healing effects.
Following we present you with 5 recipes using natural remedies against hair loss.
RECIPE 1 – GARLIC OIL
You can use pure garlic oil (purchased) to reduce hair loss. Simply apply the oil directly to the hair roots two to three times a week.
Massage the scalp for 5 to 10 minutes, then wash your hair well with a sulfate-free shampoo.
For best results, heat the oil slightly before applying it to the scalp. Repeat this process for several weeks until you notice that the hair loss has decreased and the hair becomes thicker and stronger.
If you do not have ready-made garlic oil, you can always prepare it yourself at home.
You need 8-10 cloves of garlic and half a cup of castor or coconut oil. Blend the garlic until you get a soft porridge, then add the oil. Then put on a very low heat to heat until golden brown. Leave the cooked garlic in oil to cool. Strain the mixture and use two tablespoons to massage the whole head.
You can also try using raw garlic by cutting the clove and rubbing the skin directly on the area where the hair falls out. Garlic can irritate the area, so do not use this method too often.
After each use of garlic, wash your hair with a mild shampoo.
RECIPE 2 – HOMEMADE REMEDY AGAINST HAIR LOSS WITH GARLIC AND HONEY
Procedure:
Squeeze the juice from 8 cloves of garlic to get one teaspoon. Add a teaspoon of honey to this teaspoon of garlic juice and mix well until you get a compact mixture. Apply the mixture directly on the scalp and cover the head with a shower cap.
After 20 minutes, use a mild sulfate-free shampoo to wash your hair. Repeat this process two to three times a week. You can achieve great results very quickly.
RECIPE 3 – HAIR MASK FROM GARLIC AGAINST HAIR LOSS
For those whose hair falls out in whole locks, the targeted treatment is the most effective. This mask targets the places where the hair falls.
This garlic mask can be easily prepared at home from three ingredients, which are: garlic, ginger, and olive oil. Ginger improves circulation.
Ingredients:
1 tablespoon olive oil, 
1 clove garlic, 
Little fresh ginger root or ginger powder (half the amount of garlic). 
This is a small amount, so increase the ingredients in proportion if you have more surfaces to treat.
Procedure:
Clean all the ingredients and grind them in a blender until you get a compact mixture together with the oil.
Apply the mixture to the root, fix well with a cap and leave on overnight. Wash your hair with a mild shampoo, the next day.
This treatment is used once or twice a week.
RECIPE 4 – GARLIC, ONION, AND CINNAMON – A GREAT REMEDY AGAINST HAIR LOSS
This recipe treats your hair loss quickly and very successfully. It "awakens" dormant follicles and stimulates them to grow faster, thus preventing further hair loss.
Ingredients:
2 cups water, 
1 small onion, 
1 stick of cinnamon, 
3 cloves of garlic. 
Procedure:
Peel the garlic and boil all the ingredients in two cups of water, then leave the mixture to cool. Then strain.
Apply the liquid on the head and leave it on for 15-20 minutes. Then wash with lukewarm water and shampoo. The treatment is repeated every day for a week. You will immediately notice that the hair loss is significantly reduced.
RECIPE 5 – HOMEMADE HAIR LOSS SHAMPOO
Ingredients:
200 ml sulfate-free shampoo, silicones or parabens, 
15 cloves of garlic  
10 drops of peppermint essential oil
Procedure:
Clean the garlic and grind it, then add it together with the essential oil in the shampoo. Use this shampoo no more than three times a week.
Even science confirms that garlic is the best natural remedy against hair loss. Numerous studies have shown that garlic promotes hair growth. If you have a hair loss issue do not hesitate to try these simple but very effective recipes.