Junk food is a negative term used to name food with high levels of calories, a lot of sugar, fat, and little fiber, protein, vitamins or minerals. Chips, sweets, processed meat, pizzas, hamburgers, and sodas are all considered junk food. It is a group of foods that can be tempting for different reasons, including price, taste, and convenience.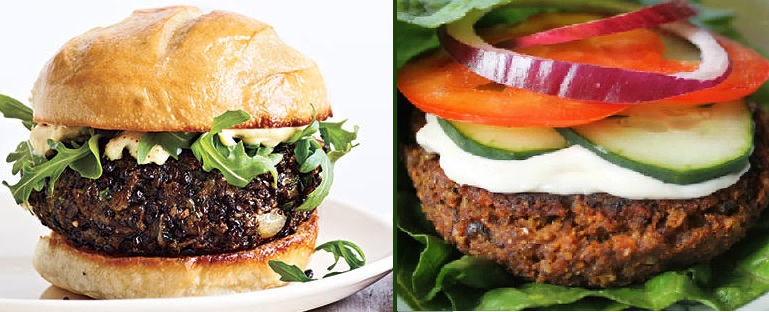 Additionally, junk food can be addictive for children and persons who do not always understand the health consequences of their eating habits. Excessive consumption of junk food, which has zero nutritional value, was related to many dangerous and harmful diseases, such as obesity, diabetes, depression, high blood pressure, and heart diseases.
Here are 2 alternative recipes for sweets without sugar and burgers without fat.
Lentils Burger
1 cup of uncooked lentils
1 onion
4 cloves of garlic
1/3 cup of fresh parsley or 1 teaspoon of dry
1/3 cup olive oil
1 teaspoon milled flaxseeds mixed with water
1/2 cup dried breadcrumbs
1 teaspoon cayenne pepper
Salt and pepper to taste
Put the lentils into a pot and add water to cover it. Boil for 30 minutes, remove from the heat and drain it. Chop the onion and the garlic cloves into small pieces. Combine the lentils with the chopped garlic and onion and mix them well. Add the milled flaxseeds/water mix to get nice and smooth homogeneous paste. If you have hand blender it would be best to blend the mixture, adding the olive oil gradually. If you don't own a blender, you can do this also by mashing it with a fork. After all is mashed well, add the spices and the breadcrumbs, and taste to check if something is missing. Prepare a baking pan with parchment paper, form round burgers and bake for 30 minutes at 200 degrees Celsius.
Dates Hazelnut Sweets
100 grams fresh dates
1 cup chopped hazelnuts
1 teaspoon cocoa
1/2 cup water
Heat a skillet over medium heat. Put the hazelnuts and toss for about 3 minutes, until fragrant. Remove from the heat and set aside. Remove the pits from the dates and put them in a blender. When blending, dates they can be quite sticky and that is why we need the water. Add the water and blend the dates well. You can add the hazelnuts and the cocoa into the blender and blend them thoroughly, or you can do it by hand. Stir everything well and form whatever shape you want. Try and enjoy this sugarless, healthy sweet.