If you want to have a perfectly healthy meal that you can eat for breakfast, lunch and even for dinner then you should use quinoa in them. Quinoa is full of vitamins, fiber, magnesium, and iron.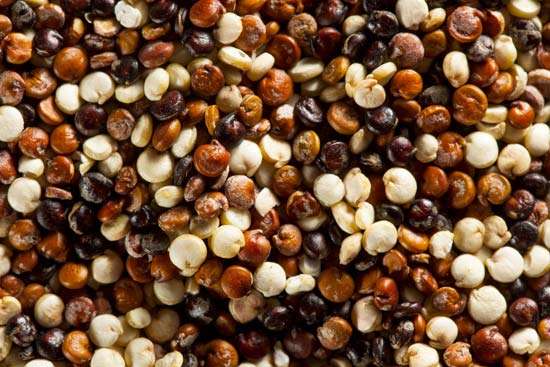 Some ways to cook Quinoa
Mexican-Style Quinoa Bowl Recipe
½ cup quinoa
1 tsp olive oil
1 garlic clove, minced
¼ cup white onion, diced
1 cup reduced-sodium chicken broth
½ tsp ground cumin
¼ tsp kosher salt
¼ tsp ground black pepper
2 tbsp tomato sauce
15 oz can reduced sodium black beans
Toppings
1 large avocado, diced
Pico de Gallo
½ cup tomatoes, diced
¼ cup white onion, diced
1 small jalapeño, finely diced
½ cup fresh cilantro, chopped
½ small lime, juiced
Heat 1 teaspoon of olive oil in a large saucepan over medium heat, sauté quinoa, onion, and garlic until the garlic is fragrant. Then, you should add slowly broth and stir, and, cumin, salt, and pepper. Stir in 2 tablespoons of tomato sauce. Bring to a low boil, cover and reduce heat to low. Simmer it for 15 minutes. Then add black beans to saucepan, gently stir to combine. Cover and let stand for 5 minutes. Finally, serve it with diced avocado and pico de gallo.
Superfood Breakfast Quinoa Bowl Recipe
1 ½ cups cooked quinoa
1 cup blueberries
1 banana, sliced
¼ cup sliced almonds
2 tbsp hemp seeds (optional)
1-2 tbsp real maple syrup
1 tsp cinnamon
Mix the cooked quinoa with the maple syrup and cinnamon, stir to combine. Heat the quinoa in the microwave or on the stovetop until warm. Divide between two bowls.Then, add half of the blueberries, banana, almonds and hemp seeds to each bowl. Also, if you want, you can add any other toppings.
Spicy Kimchi Quinoa Bowl Recipe
2 tsp toasted sesame oil
½ tsp freshly grated ginger
1 tsp minced garlic
2 cups cooked quinoa, cooled
1 cup kimchi, chopped
2 tsp kimchi "juice" (the liquid from the jar)
2 tsp gluten-free tamari
1 tsp hot sauce (optional)
2 cups kale, finely chopped
2 eggs
¼ cup sliced green onions for garnish (optional)
Fresh ground pepper for garnish (optional)
Heat the oil in a large skillet over medium heat. Add ginger and garlic and saute for 30 – 60 seconds until fragrant. Add the quinoa and kimchi and cook until hot, about 2 – 3 minutes. Stir in kimchi juice, tamari, and hot sauce if using. Turn to low and stir occasionally while you prepare the other ingredients.
In a separate skillet, cook the eggs on low until the whites have cooked through but the yolks are still runny about 3 – 5 minutes. Steam the kale in a separate pot for 30 – 60 seconds until soft. Assemble the bowls, dividing the kimchi-quinoa mixture and kale evenly between two dishes. Top with green onions and fresh pepper if using.
To sum up, quinoa is an interesting seed that can really help you to make meals, that are healthy, like a chef.