There is nothing more painful than back pain. Doing your chores can be really difficult and looking after your children can be the hardest thing to do when you have this kind of pain. But, the good news is that there is a solution for this irritating health issue and that is the Cayenne Pepper Oil.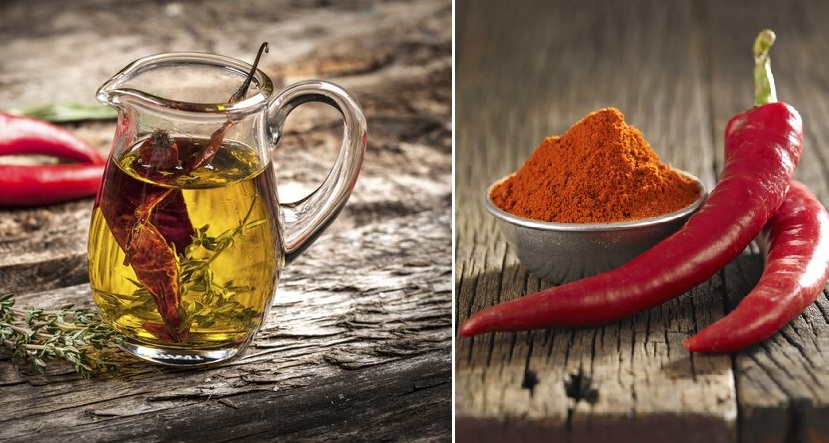 Cayenne pepper oil is filled with healing benefits of cayenne, and it is not an essential oil. It is able to relieve your pain and has the anti-inflammatory properties of both the olive oil and the pepper and on the plus side, everything is natural only.
Recipe for Cayenne Pepper Oil
The ingredients are simple:
¼ cup Cayenne pepper powder
½ cup Olive oil
How to make it:
Combine the Cayenne pepper powder and the olive oil in a mason jar with a lid. Then, you have to seal this and let it sit for a minimum of 2 weeks. After that, strain and then massage it on the painful areas.
Be careful!
You have to be careful when handling any peppers that contain capsaicin. You have to make sure to keep your hands away from your eyes, cracked skin and open wounds. After applying this oil you must wash your hands thoroughly.
The hotter the pepper, the more capsaicin- Healthy benefits you need to know for the Cayenne Pepper
This kind of pepper can be found in Cajun and Creole dishes and it is known for its spicy taste. The source of cayenne's health benefits is the capsaicin. It has a big role in the anti-inflammatory benefits of the cayenne pepper. Actually, the hotter the pepper, the more capsaicin It has. But, you have to be careful if you have sensitive skin because it can cause a too strong burning sensation on your skin. Actually, even milder peppers can affect your sensitive skin. Also, capsaicin applied in a cream can be used as a cure for osteoarthritis pain.
If you want to feel better after few days, then you should make your own Cayenne Pepper Oil. You need to wait 2 weeks to use it but it is worth waiting for. Not only you will feel great after a day, but you can do your chores again and play with your children.