Are you in a search for something which will make your skin look refreshed, young and soft? Something which will tighten the loose skin on your face? Stay away from facial masks and creams which are designed to do that job because they contain lots of harmful chemicals.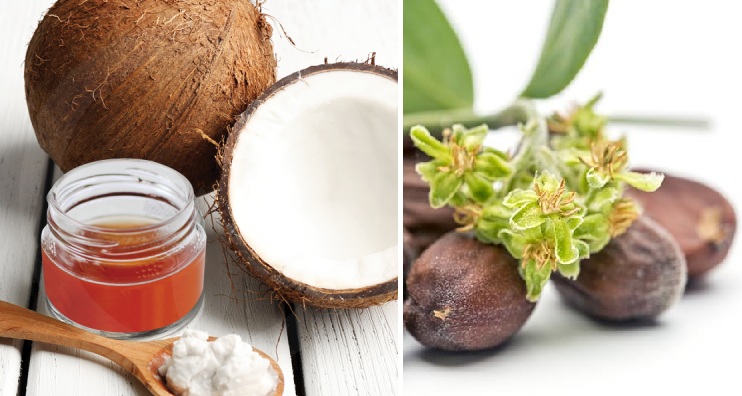 The good news is that there is a simple natural solution based on coconut and several other ingredients which we must admit that are not something that you can easily find at home. But it should not be hard for you to get them from the store and they are not as expensive as commercial skin care products.
Ingredients:
1/4 cup organic coconut oil;
2 tablespoons of shea butter;
1/2 cup organic jojoba oil;
1 teaspoon Vitamin E oil;
1/4 cup of beeswax.
Benefits:
Coconut oil strengthens the skin and acts as an organic moisturizer. It impacts the deep underlying tissues and will keep your skin healthy for sure. It contains antifungal, antiviral, and antibacterial ingredients which will make your skin look young.
Jojoba oil will soothe the skin thanks to its anti-inflammatory ingredients.
Shea butter is effective in eliminating and relieving allergies, insect bites, and itching. It smooths out wrinkles on your skin.
Beeswax offers anti-inflammatory, antibacterial, and antiviral benefits and maintains the moisture within your skin.
Vitamin E oil blocks free radicals which are the major factor in the aging process. Thanks to Vitamin E your skin looks younger.
Instructions
# On a stove put a pan with some water.
# On top of the pan place a glass bowl.
# Add to the glass bowl all the listed ingredients, except the Vitamin E.
# Melt the ingredients by turning the stove to medium-high temperature and mix them as they melt.
# When the melting is over add the Vitamin E and place the liquid into a jar for later use.
BAKING SODA IS A BAD IDEA. Those who have sensitive skin should avoid baking soda, although there are many articles which highly recommend baking soda for nicer skin or skin conditions. The truth is that the alkaline substances in baking soda can cause severe allergic reactions and irritation.