When we mention chocolate, apart from the fact that it comes to our mind that it is very tasty, we immediately think of completely unhealthy food that we should consume very rarely. Very high in calories, fat, bad for teeth, etc. But is every chocolate the same?
This is only true if we are talking about milk or white chocolate. Why? Generally, there are 3 types of chocolate in the chocolate industry. Dark, white, and milk chocolate.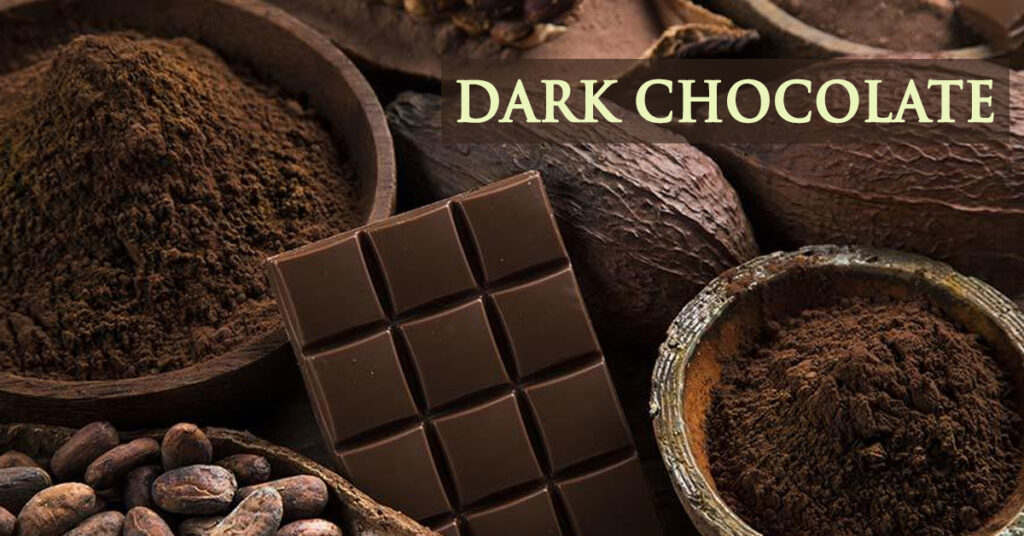 The basic food for the production of chocolate is cocoa, more precisely the fermented seeds of the plant called Theobroma cacao. This seed has a high nutritional value and is one of the best antioxidant sources in the plant world. In the preparation of chocolate, dark chocolate combines the natural concentration of fat from the seeds and retains all micronutrients, while white chocolate is composed only of cocoa fat and milk proteins, and fats. Milk dark chocolate has a similar composition to white, plus a certain percentage of cocoa powder.
So, white and milk chocolate contains a very high percentage of added fat, and unlike the dark, they had significantly less or no micronutrients at all.
This makes dark chocolate much better for the body than the other two types (of course if consumed in moderation).
Let's look at just some of the scientifically proven beneficial properties for the human body of the components that make up dark chocolate.
High nutritional value
If you choose quality dark chocolate, with a high percentage of cocoa mass (the cocoa part without cocoa fat), then you have a portion of, especially nutritious food. It contains a high percentage of soluble fiber and various minerals.
100g dark chocolate, with 70-85% cocoa mass contains:
11g of fiber
as much as 67% of the daily requirement for iron
58% of DP for magnesium
90% of DP for copper
100% of DP for manganese
also contains a very solid percentage of potassium, phosphorus, zinc, and selenium
However, 100g is too much to eat in one day due to the high caloric value (600kcal) of those present, especially fats and carbohydrates. For these reasons, dark chocolate should be consumed in moderation.
When it comes to cocoa butter, it can also be considered good. It contains mainly monounsaturated and saturated fatty acids, but also smaller amounts of polyunsaturated fatty acids. Cocoa mass also contains caffeine and theobromine, but not in large quantities to keep you awake at night, unlike coffee for example.
Dark chocolate is one of the most powerful sources of antioxidants
Cocoa powder and dark chocolate have a diverse and rich antioxidant composition. It is impressive compared to most foods.
Antioxidants are compounds that the body uses to deal with oxidative stress that can be caused by free radicals that are constantly produced in the body. Such oxidative damage suffered by cells of various organ systems can lead to chronic inflammatory processes which in turn are one of the main causes of all chronic diseases. This type of disease is the most common and deadly in modern times.
One study found that cocoa and dark chocolate had higher antioxidant activity, meaning polyphenols and flavonoids than any fruit tested, including berries, which are considered the best fruit antioxidant.
It can reduce high blood pressure and improve circulation
Dark chocolate flavonoids can stimulate the endothelium, the inner layer of the arteries, to produce nitric oxide. One of the functions of this oxide is to stimulate relaxation of the arteries which further causes a decrease in blood pressure.
Scientific studies have shown this effect in the patients examined, although it is mild but still present.
Dark chocolate raises HDL cholesterol levels ("good") and protects LDL cholesterol from oxidation or damage
Eating dark chocolate can help reduce some of the risk factors for heart disease.
One study found that cocoa powder could significantly reduce oxidative damage to LDL cholesterol in men. The researchers also found that in patients with elevated total cholesterol, cocoa may contribute to lowering HDL cholesterol levels by lowering LDL cholesterol levels.
Oxidized or damaged LDL cholesterol means cholesterol that has come in contact with free radicals. This makes this cholesterol molecule reactive, that is, able to damage the arteries and thus significantly increase the risk of atherosclerosis.
In some studies, dark chocolate has been shown to reduce insulin resistance, one of the most important risk factors for cardiovascular disease and diabetes.
Another study says that consuming dark chocolate 2 or more times a week can reduce the risk of calcification of the arteries by as much as 32%.
Can prevent skin damage from sun exposure
Some of the bioactive components of chocolate can be especially beneficial for the skin. Flavonoids can protect us from the sun's rays, improve blood flow to skin cells, and improve skin density and hydration.
A study on this topic gives interesting results. Namely, people who consumed dark chocolate for 12 weeks, had a 2-fold increase in MES. MES (minimum erythema dose) or minimum required exposure to UV sunlight, after which the skin would turn red in 24 hours.
Dark chocolate is also good for brain health
A study of several volunteers who ate dark chocolate with high concentrations of flavonoids within 5 days showed an improvement in their blood circulation to the brain.
Cocoa has also been shown to improve cognitive function in older people with certain brain damage. It can improve their verbal communication and reduce several risk factors for disease in these people. Caffeine and theobromine contained in certain amounts in dark chocolate can stimulate improved brain function in the short term.